The Brabantia Bin Liners PerfectFit are practical and convenient and will ensure you make the most of your Brabantia bin. Practical and convenient, these Brabantia bin liners will fit your bin no matter the size or shape you need and mean the end of fiddling around with liners that are too small or too large.
To find the right size PerfectFit Brabantia Bin Liners for your bin simply check the colour code on the inside lid of your Brabantia bin and match it to the range of Brabantia Bin Liners and you will always have the perfect fit!
Made from extra-strong plastic, the bags are tear resistant and have a handy tie tape making them easy to close and transport when full. Because the Perfect Fit Brabantia bin liners are specifically designed for your bin, there is no ugly overlap and the bin bag is invisible when closed, maintaining Brabantia's stylish finish. The special ventilation holes of the Brabantia bin liners make changing the bags super easy as they prevent a vacuum and let excess air out, ensuring the bag neatly fits the bin the first time, saving you time and hassle.
Please be aware that there are now bags which have been specifically designed for the newIcon and 30L flatbacks only.
Perfect Fit Bin Liner Features
Brabantia bin liners
Easy to insert neatly and remove quickly
The unique colour coding enables you to find the right bin liner
A perfect fit for your Brabantia waste bin - no ugly overwrap
Special ventilation holes make it easier to insert the waste bag
Easy transport and sealing band
Made of extra strong quality plastic
Brabantia's Ref.
MPN: 962116
Sizes: Assorted
PM Ref. 700192
Brabantia Bin Liners Size Guide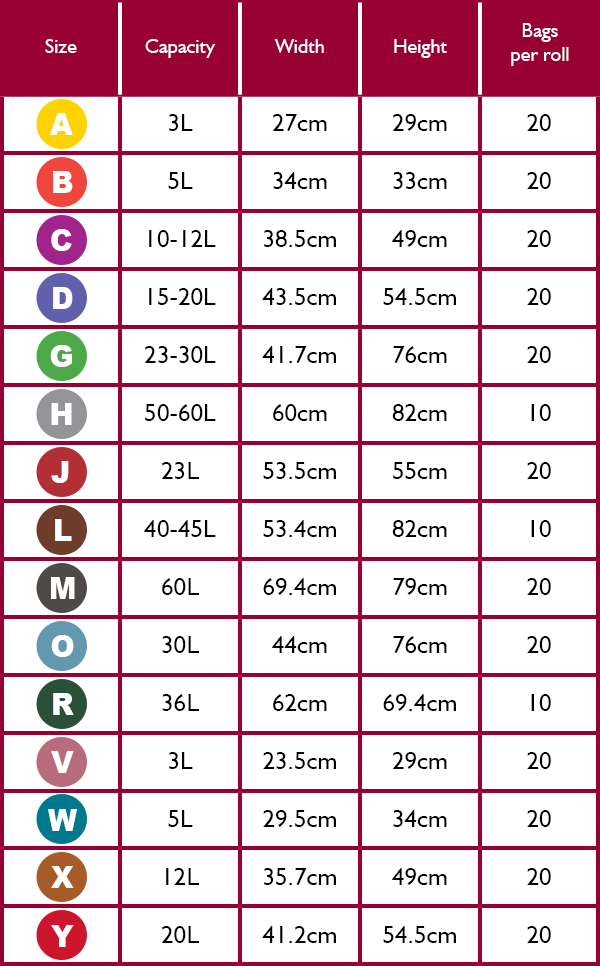 Can you use normal bin bags in Brabantia bins?
Brabantia PerfectFit bin bags are designed to perfectly line your Brabantia bin and create a neat, easy fit with no ugly overhang. Other bin liners such as standard black bin bags may not align correctly to the shape of your bin and be awkward to fit.
Are Brabantia bin bags worth the price?
Brabantia bin liners are strong, robust and tear resistant. They're also simple to fit and easy to remove and transport when full. The features create a hassle-free bin liner that saves time and remains invisible when the lid of the bin is closed.
How do you fit Brabantia bin liners?
Brabantia PerfectFit bin liners have special ventilation holes to release excess air and prevent a vacuum, making them easy and quick to fit inside your bin.
How do I know my Brabantia bin liner size?
Simply look for the colour and letter code on the inside of your Brabantia bin and match it to the relevant bin liner.
Can I use Brabantia bin liners in other bins?
Brabantia bin liners are specifically designed for the different sizes of Brabantia bins but may also be suitable for other bins.
Are Brabantia PerfectFit bin liners compostable?
The standard PerfectFit bin liners are not compostable but the Brabantia Compostable PerfectFit bin liners are and can be put straight on the compost heap.
How do I tie Brabantia bin bags?
The convenient design means you simply pull the tie tape to remove, seal and transport the bag.
Standard UK Shipping Rate is £4.95 Under £50 Order Value

FREE Shipping on all UK standard delivery orders over £50

Click and Collect from our Hereford store for free.
Delivery Cost
FREE UK delivery over £50 in value.
Standard UK and UK Zone 2 delivery from £4.95
International delivery is calculated dynamically in the checkout with no VAT or additional import fees opon delivery.
Delivery
Stores are open 7 days a week Monday to Sunday. Order collection from our Hereford store is available or we can deliver anything (courier permitting) if we have it in stock. If there's an item not on the website but we have it in stock, an order can still be placed over the telephone for delivery or collection. Standard UK delivery is £4.95 and FREE over £50 in order value. Order collection is free, we do not charge for this service. Our online trading remains open 24hrs a day. We are despatching orders efficiently during Monday to Friday.
For more detailed information please view the Delivery Information page.