Posted by Philip Morris & Son on 29th May 2023
Undeterred by shifting fashions, Chelsea boots and jeans are always on trend. The combination remains popular for good reason, as they are both comfortable and versatile. However, there is a huge range of options available, and you might be wondering - how do I style this?
This blog walks you through all things Chelsea boots, and how to style them with jeans so you can look your best.
Chelsea Boots with Jeans – Men's Guide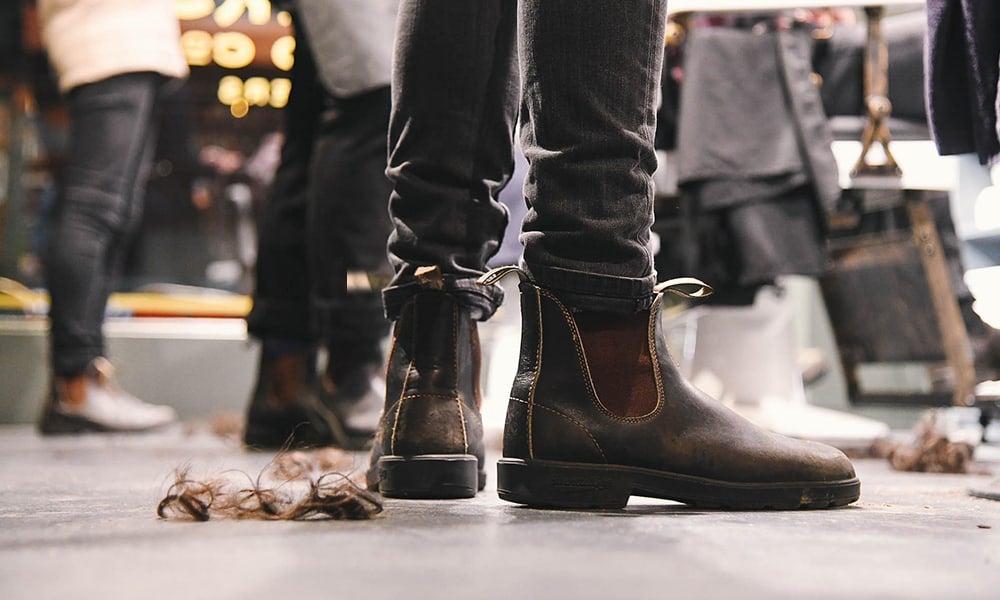 Simultaneously utilitarian, streamlined and stylish, these boots are a British staple and have earned their credentials by being comfortable to wear. Paired with jeans, they create a go-to outfit that is an essential part of any man's wardrobe.
Can you wear Chelsea boots with slim fit jeans?
Slim fit jeans offer a flattering shape that is perfect for pairing with Chelsea boots. The slimmer leg style tapers towards the ankle, so your jeans can sit perfectly with the top of your boots. It's a casual style that looks sharp and well-polished, as well as being practical and easy to wear.
How to wear Chelsea boots with straight leg jeans
Pairing straight leg jeans with Chelsea boots creates a timeless, rugged, outdoors look. The R.M. Williams Ramco Denim Jeans are a pair of straight leg jeans that are inspired by the wild Australian Outback. They happen to work perfectly with the iconic R.M. Williams Comfort Craftsman Boots.
Straight leg jeans also have enough room at the ankle for the boot to sit under, creating an effortless style that never dates.
Styling selvedge jeans and Chelsea boots
For a trendy workwear look, try pairing rounded toe Chelsea boots with turned up selvedge jeans. The Loake McCauley Boots work fantastic with this outfit. The rolled-up hem not only shows your boots off, but the selvedge outer-seam too. Styled with a white t-shirt and check flannel shirt, you can create a classy and masculine look, perfect for many occasions.
Do jeans go over or under Chelsea boots?
Depending on the cut of your jeans and the style you want to achieve, Chelsea boots work perfectly with either slim jeans, that sit at the top of the boot with minimal bulky bunching, or with straight leg jeans with enough room to sit over the top of the boot.
The boots create a refined and polished look, so avoiding jeans that are too baggy will add to the neat silhouette.
Chelsea Boots and Jeans – Women's Guide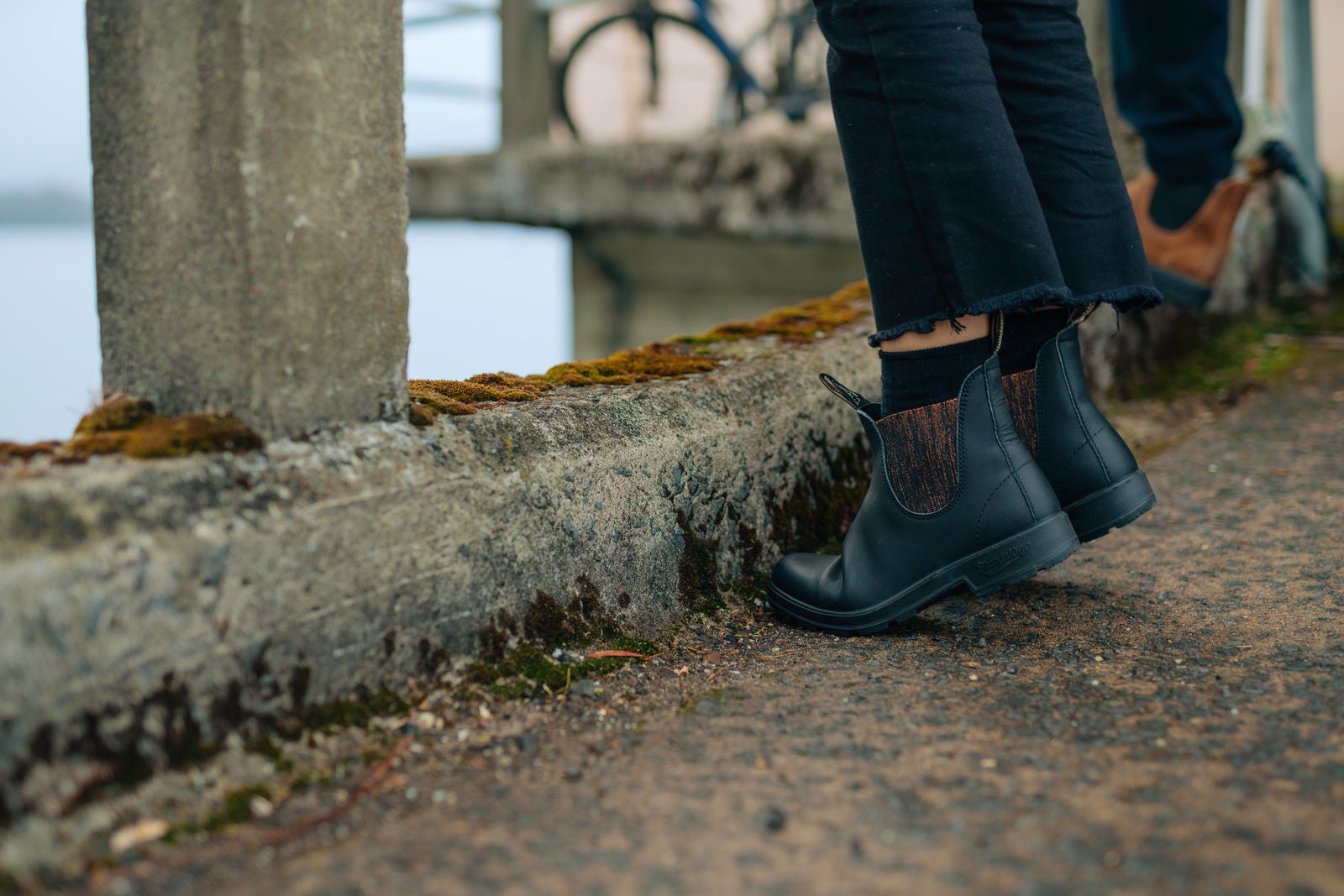 Chelsea boots are a great addition to any woman's wardrobe and are a beloved fashion staple. Paired with a jumper and a pair of jeans, you can create a go-to outfit that is always on trend. From skinny to straight or even bootcut, the choice of which jeans to pair with your boots is endless.
How should jeans sit on Chelsea boots?
When matching your jeans to your boots it is best to find jeans that sit at your ankle, to avoid any unflattering bunching. If your jeans are longer, simply cuff them by turn them up a couple of times to create a trendy casual look.
How to wear Chelsea boots with skinny jeans
The key to wearing skinny jeans with your Chelsea boots is to minimise bulky gathering at the ankle. Skinny jeans or leggings can be tucked in for a sleek look, or worn with a rolled hem to sit above the top line of the boot.
You could add a pair of thick contrasting socks showing at the top of the boot for a cosy winter look. The Ariat Women's Ultra Stretch Sidewinder Skinny Jeans, in their dark indigo wash are perfect paired with classic brown boots. Such as Le Chameau Jameson Leather Chelsea Boots, try it out!
Do Chelsea boots look good with slim jeans?
Chunky sole Chelsea boots paired with straight or slim leg jeans is a fashionable look right now. Turning your jeans to show your ankle will help create a flattering and slimming silhouette and show off your boots too!
The Holland Cooper Women's High Rise Slim Jeans have a raw hem that can be customised to the perfect length. This shade of light denim paired with your boots is a fun modern look that works perfectly for the summer!
Do bootcut jeans and Chelsea boots go together?
Wider leg jeans are always an easy option to wear with Chelsea boots. The subtle flared cut of the jean means they comfortably sit over the boots without any worry about where the hem of the jeans hits the top of the boot.
This style creates a leg lengthening look that is flattering for all body types. Try combining a pair of bootcut jeans with Western inspired Barbour Women's Prue Boots for a timeless style. The block heel and almond shape toe of these Chelsea boots offers an elegant feminine finish.
What colour jeans go best with Chelsea boots?
Brown Chelsea boots look great with dark blue denim and black boots paired with black jeans creates a clean, monochromatic silhouette. White jeans always look stylish with tan or dark brown Chelsea boots. However, it's really down to you, clothing is a form of self-expression that everyone should embrace!
This style guide offers a good range of practical tips for effortlessly styling jeans with Chelsea boots. From achieving the ideal length to minimising bulkiness, cuffing with finesse, and exploring complementary colours, you'll be ready to create chic and comfortable looks for any occasion. For more advice, visit us in-store or give us a call at 01432 377089.