Posted by Phillip Morris & Son on 14th Nov 2023
With so many options, choosing a new shooting jacket can be a bit of a challenge. They aren't cheap, so you want to make the right choice, especially as a good shooting jacket will last you many years. Here, we take a comprehensive look at things to consider, starting with getting your whole look correct.
What To Wear Game Shooting
Wearing the right clothing on a day's game shooting is vital, firstly so that you stay warm, dry and safe. Secondly, so you look the part and don't fall victim to banter from your fellow shooter, who will undoubtedly take the opportunity to pull the leg of anyone not dressed appropriately...
Here we give you a very quick guide to the basics you'll need. If you're looking for a bit more detail, we've put together a complete guide on what to wear on a shooting day here.
The first thing to get right is your shooting jacket and welly boots. Get these two right and you're a good way toward both looking the part and beating the weather.
With shooting jackets, the most important thing is that it is waterproof and designed specifically for shooting; a jacket designed for other purposes won't have the pockets and freedom of movement you need. This guide gives you more information on getting your shooting coat features right and will help you to get the fit of your shooting jacket correct.
With your welly boots, go for a timeless country green pair, ideally from a brand such as Le Chameau, and you can't go too far wrong. Bright-coloured and cheap wellies tend to stand out in the shooting field, so avoid these unless you want to attract attention!
When dressing for your day's shooting, a country check shirt and country-themed tie are an easy start to achieving the right look. On colder days, a shooting waistcoat or fleece gilet is a good option. If you want to fit in, go for a Schoffel Oakham or Lyndon Waistcoat.
On the bottom half, ideally, wear breeks with country green shooting socks held up with garters. Whilst breeks are the smarter and more traditional option, a country green moleskin or twill trousers are acceptable on most shoots.
Finally, make sure you have hearing and eye projection. For safety, the importance of these cannot be overstated. If the weather is cold, a good pair of shooting gloves, a scarf and a peaked flat cap are all you need to complete the look.
Key Features Of A Shooting Jacket
There are loads of features to look out for to get the right jacket for your type of use. Below, we've provided a quick list of features to check, and you can read up on the details of each in our full blog on the key features of a shooting jacket.
Waterproof – pretty much essential.

Breathable – check the rating is high enough for your activity level.

Freedom of movement – it's vital you can swing the gun unrestricted.

Pockets – make sure you can keep everything you need and access your cartridges.

Sleeve type – does the cuff type and adjustment suit your personal preference?

Insulation – don't go too warm...or too cold.

Weight – is the jacket too heavy to wear all day?

Durability – is the fabric tough enough for your type of shooting?

Hood – do you need a hood and do you want it to roll away or be removable?

Drawcords – depending on your shape, these can be vital for fit and heat retention.
Shooting Jacket Fabrics
Whilst there is a huge choice of fabrics available, particularly when you get into details such as the membrane technology, there are just three main types to consider:
Tweed - the smartest, most traditional and in many ways still the best option. It's hardwearing and warm, but downsides include weight and cost

Wax – Great for longevity, it's fully waterproof and wax-content fabrics are often referred to as 'thornproof' due to their unique durability. However, wax isn't breathable, so is now an unusual choice

Technical fabrics – this covers the majority of the modern shooting jacket market. Green jackets with a waterproof, breathable membrane are generally the most common choice as they offer the most complete performance against whatever the weather throws at you.
More information on this is available in our detailed blog on shooting jacket fabrics.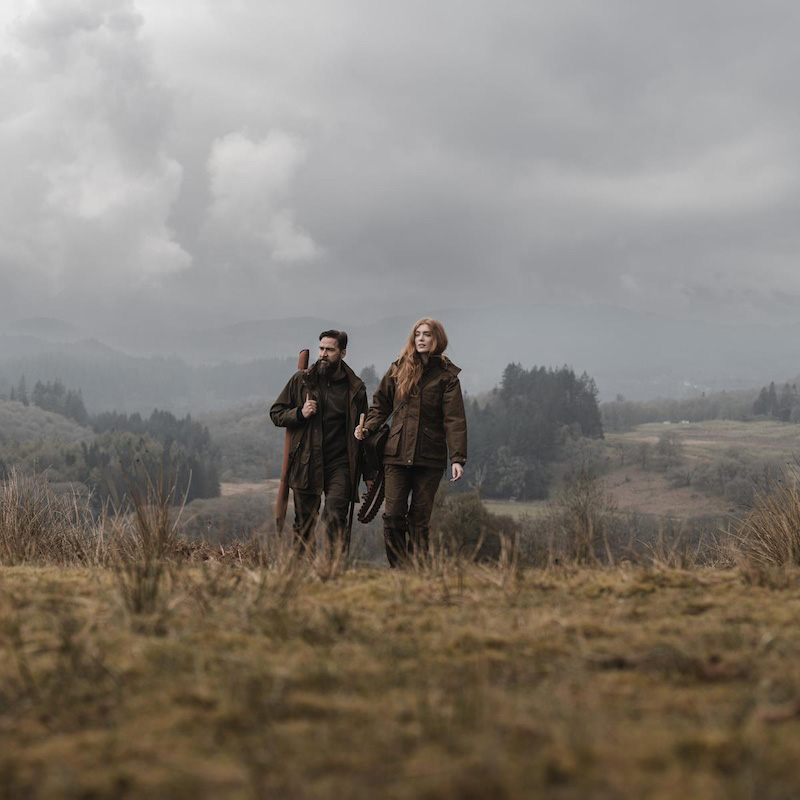 Which Brand Of Shooting Jacket Is The Best?
There are dozens of brands of shooting jackets available, the best shooting jacket is the sort of argument you can have down the pub with a few mates. Here, we take a quick look at the lead contenders, and if you want a more detailed run down, check out our separate blog on which is the best brand of shooting jacket.
Whilst there are dozens of brands available, the good news is that there are just a small handful that are totally uncompromising about the quality of design, fabrics and construction. In that group, I would put Schoffel, Laksen, Harkila and Barbour.
Each of these brands has its own distinct character: Schoffel is probably best for a smart day's shooting; Harkila is perhaps suited to a younger, more active user; Laksen suits those wanting something a bit different; whilst Barbour suits those looking for a really traditional look.
What is unarguable with all of them is that their jackets will keep you warm and dry, and the quality of construction will last you for years. I personally have jackets from both Harkila and Barbour that are older than I care to admit (we are talking decades), but they still do the job.
The quality of all of the above brands comes at a premium price point, so you may wish to also look at someone like Seeland, Deerhunter, Alan Paine, Beretta, or Hoggs, all of which make really good quality kit, but without quite such a steep price tag. In a very crowded mid-price point market, I think this set of brands represents the best quality to keep you warm and dry.
You may notice that Aigle, Le Chameau and Musto are missing from this list. For various reasons, none of these companies now make shooting jackets, which should help narrow down your choices considerably!
How To Get The Fit Of Your Shooting Jacket Right
Fit is one of the most important things to consider when choosing a new shooting jacket. It's vital that you can swing the gun without your jacket restricting your freedom of movement. Don't worry too much about what the fit of the jacket looks like in the mirror, just as long as you can swing the gun freely. The key areas to check for the fit of your shooting jacket are:
Shoulder – can you move freely?

Sleeve – are they long enough and not restrictive?

Length – is the jacket long enough that rain drains down onto your leggings or over trousers?

Hood – often overlooked, make sure it is big enough and the adjustment allows the correct fit to your head

Chest - can you comfortably add the layers you want, but without too much spare fabric when worn without layers? Check for a drawcord, as this makes a huge difference to the quality of fit.
For a more detailed look at getting your shooting jacket fit correctly, check out our dedicated blog on this topic.
And Finally...
Hopefully, you found this series of blogs on getting your shooting jacket correct useful. There is more information available on this topic on our YouTube channel as well as our website. If you need more help, feel free to call us, or drop us a message in our product Q&A.